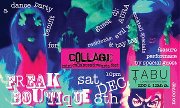 FrEAk BoUtiQuE: a COLLAGE festval benefit
DRINK- your face off to support local artists
DANCE while hobnobbing with COLLAGE artist
DRINK- we said that already but a %age of drinks sales go to COLLAGE.

NO COVER ! NO COVER ! NO COVER ! NO COVER ! NO COVER !

COME AND GET FREAKY!
FREAK BOUTIQUE is up to it's usual antics slingin'
the dirtiest beats to make your body ROCK and you booty BOUNCE.

We have: Special Guest DJ AURA

and on the wheels of steel:
resident DJs *evil v* and *Tay Tay*

Artists:
let your FREAK flag fly- we will have limited edition COLLAGE festival magnets, applications, festival curators, and former festival artisits....
and...
(!)

OMG

a special guest performer.








Tabu Lounge


200 South 12th Street

Saturday Dec 8, 2012
10:05pm-1:05am
More events in Philadelphia